Testimonials
Just received my art work. It is gorgeous, we cant stop looking at it. I was worried all day, but it came in one piece. Thanks for the detailed workmanship ya'll did on it. It will be admired for the rest of our lives. It was worth waiting for, since this was my 20th anniversary gift (May 8th).
As we discussed I entered my vase in the State Fair of West Virginia last week. Not only did I win a Blue Ribbon–I won Best of Show! I also entered two flowerpots and a mirror which you can see were greatly influenced by what I learned at your workshop. I won a Blue, a Red, and a White ribbon on them. Thanks again for teaching me your techniques. I still have so much to learn and I take heart from the fact that you said it took you two years to perfect your cutting technique!
wowie capowie batman…the mermaid blew us away…she's incredible! Thank you so much…there are hardly the words to express how fantastic she is!!!!!!!!!!!!!
Hi! I wanted you to know that the Koi is absolutely beautiful. I could not be more happy. And the compliments when I show "them" off are always "wow"!! Thanks again!!
Thank you so much for a truly outstanding piece of artwork. We are extremely pleased with the final result and can't wait to have it installed. The process seemed long and tedious, however, now I can say it was well worth all the time, thought and effort that went into creating a beautiful masterpiece!
Thank you both for doing such a fine job on my backsplash. I am amazed at the detail even in the handle on the basket. The colors are just beautiful. You two are truly gifted. And also thanks to your shipper, he did a great job.
We absolutely adore the hydrangea basket. You do incredible work and we feel lucky to actually have a piece of it to display in our kitchen. Thank you again for all your hard work. It was truly a pleasure doing business with you
We are so delighted with how the bamboo wall turned out! It is so magnificent…more beautiful than anyone could have imagined. Thank you for your hard work and dedication. Your talents are truly remarkable. You make a wonderful partnership. We look forward to working on something more with you in the future. I've got lots of ideas.
Thank you for your continuing support. As far as I am concerned, this entire project would have been certainly very, very nice, but pretty ordinary ( I was going to say Ho-Hum) – if it were not for your incredible artwork and craftsmanship. Everyone who walks into our kitchen expresses an astounding "WOW" as soon as they see the backsplash, as I knew they would. Without a doubt, this artwork is the focal point. I so appreciate not only your artistic ability, but also the incredible one-on-one communication as we developed the project, and, of course, your follow up. It has been much, much more than a pleasure to do business with you and if ever you want to give anyone my e-mail as a reference please do so.
I received the tiles…they look fabulous!!!!! I love the 8×8…they will be going up this weekend…I will send you a picture when the work is done. Thank you for your great work!!! I guarantee you that your tiles will receive many compliments as they are viewed in our kitchen. I am glad I found you on the internet!!
Thank you for making such an amazing glass backsplash for my kitchen. It looks fantastic! I'll email pictures as soon as the hardware is on the cabinets.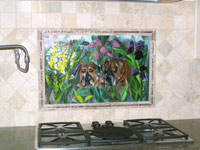 The anticipation was enormous as I peeled away the packing materials and then I saw them, oh my lord, you have captured then and placed them in a perfect setting. "Meg & Rocky" is a magnificent work of art that will adorn the home that was built for it!
I absolutely love it, I must say, I expected it would be wonderful, but it really is them and it is perfect. I don't have the words right now to adequately express my heartfelt gratitude…I love it!