Fireplace
A MOSAIC TILE or FUSED GLASS TILE FIREPLACE SURROUND  is a great way to bring art in to a warm, cozy room in your home.  Are you planning some new construction or simply tired of the black marble or brick on an existing fireplace surround and considering a remodeling project?   Let us create something custom, extra special for you in GLASS and a real "WOW" factor in your home.  We can bring the artistry of our design expertise and the skilled craftsmanship of our mosaic glass tile and fused glass artisans to your project.  Saundra can work with you on the design aspects – oftentimes producing an artist rendering and then Tom, Saundra and the mosaic and fused glass artists can bring the design to life.  Our glass work will be crafted to fit your fireplace surround profile "like a glove" and packed by ourselves with the care it deserves.  We can also work very closely with your installer or contractor on our recommended best installation practices.
Let us transform your existing fireplace surround in to a real work of art.
In the gallery below we present plenty of pictures of our GLASS MOSAIC TILE and FUSED GLASS FIREPLACE SURROUNDS both in actual installations or digital representations.  Please keep in mind that any of the themes and patterns (geometrics, floral, dogwood, abstract) you may see in other of our unique glass creations (kitchen backsplashes, tile wall murals, mosaic furniture, etc.) may be incorporated into your surround area.
 We are also able to create digital designs so you can get a sneak preview of your vision. Simply send us a photo of your existing fireplace and we will digitally impose our pattern onto your surround area. Put in your request through our Contact page.


Before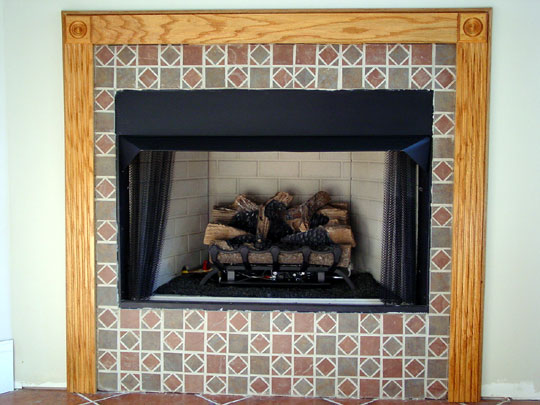 After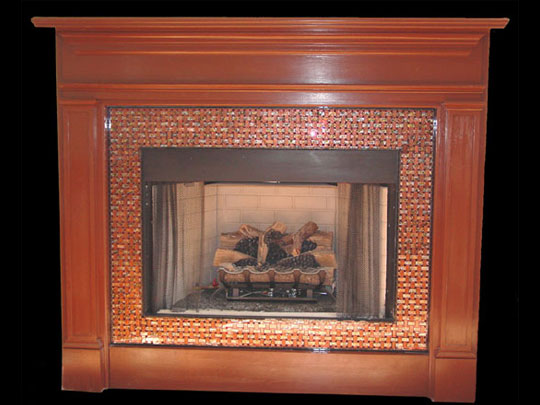 Click on thumbnails for Zoom

or more Photos