Mosaic Sink & Mirror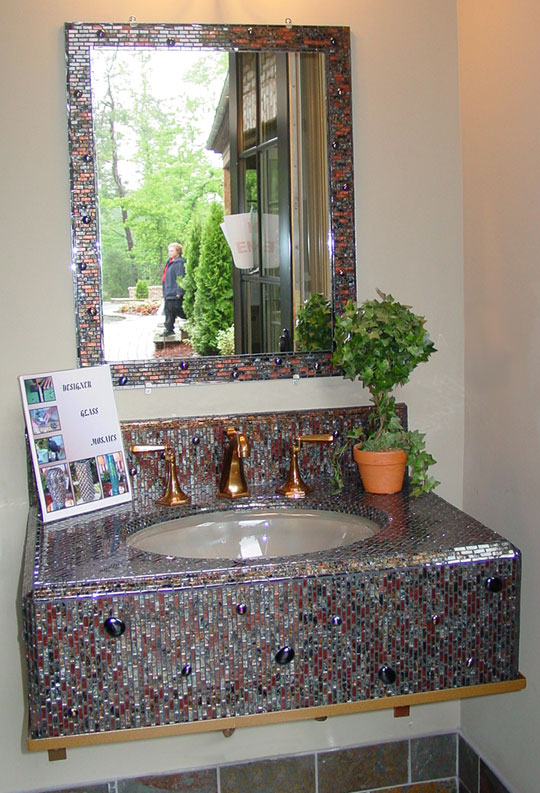 Designer Mosaic Vanity & Mosaic Mirror
Mixed Metals in Basket Weave and
Bamboo Pattern
with Black Iridized Nuggets
This all glass vanity and matching mirror were custom made for a a designer home featured in HomeArama 2003 in Charlotte, NC. The vanity and mirror actually appeared in the pool house of this upscale home. The hand-cut glass tiles are in copper/gold/silver Van Gogh glass and Specturm gunmetal (silver) and applied in a basket weave pattern on the top and "bamboo" pattern on the front, sides and backsplash of the vanity and the mirror. Black, iridized glass gemstones were mounted to the substrate of 3/4″ plywood (sealed) and the adjoining tiles carefully sculptured around them. The vanity and mirror were grouted in black and two coats of grout sealer applied.
Photos of this work were submitted to the Glastar Corporation art competition contest under the title "Sink or Swim" and won the first place award in May, 2003.
Pricing depends upon the complexity of design and size of the glass artwork. WE DO NOT GIVE PRICE QUOTES BY EMAIL.  For pricing please fill out the contact us  form.   Please call our design coordinator Saundra at 704-488-5800 to discuss your project ideas, design, colors, general pricing, etc.